11 – 13 October 2023 in Stockholm, Sweden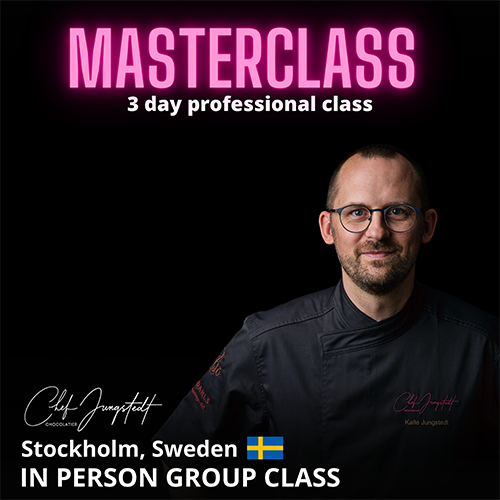 Welcome to the class for you who are a serious chocolate maker and who really wants to dial in your methods and recipes!
Kalle Jungstedt will give you all his secrets and methods during an intense 3 day class in Stockholm, Sweden!
Learn from the ultimate chocolate geek that really like to dig deep into perfecting results!
When – Where – What:
Date of class: 11-13 October
Location: Chef Jungstedts Chocolate Studio in Stockholm
Class Structure: Demo / Hands on
Time: 9am – 4:30am / each day with break for lunch
Sign up today
VAT cannot be deducted because the class is held on Swedish soil.
Testimonials of previous Masterclasses
---
"It was great! I learned a lot. Thought I knew somethings and was able to fine tune what I knew"
– Kelly Wassell
"This is the best courses I attended so far. I thought I knew everything and I completely didn't"
– Kerri Allison
What will you learn during 3 days?
---
During 3 intense days, Kalle will give you all his secrets, methods and techniques he uses in his production to ensure consistent and precise results over and over again.
The foundation for the class is that you will learn techniques and methods that are going to be easy to transfer into your own production no matter if you are producing big quantities or on a smaller scale.
How to achieve maximum gloss and perfect textures are something that is just a part of our profession and daily standard! Expect to learn all about this but also we are going to dig deeper deeper!
Running a professional chocolate kitchen demands long shelf life, proven recipes, flavours that sell in combination with clean and efficient methods.
Kalle will share their best recipes and clean methods with you! For us it is important that you understand the structure of the recipe. How it is built from ground up. This will increase your knowledge and confidence in the recipes but also help you gain knowledge to create your own well balanced fillings in the future.
There is nothing better than selling your own recipes made from scratch!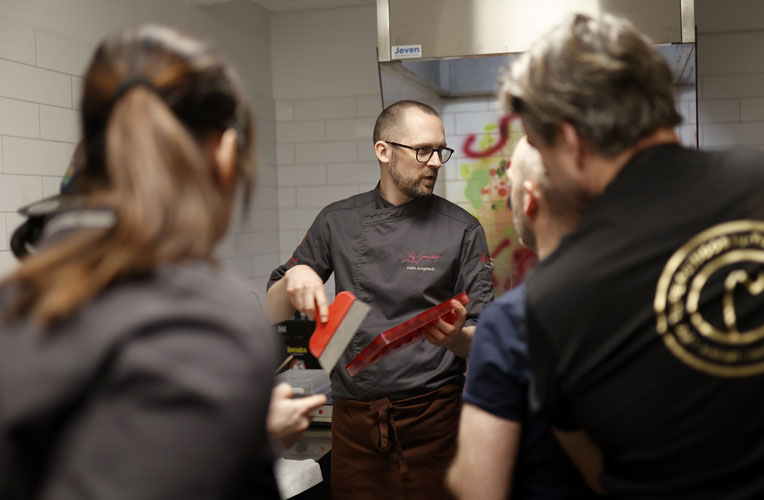 Demo/Hands on class!
---
This class is built to include everyone in every step. That is why the class is mainly demo based to make sure everyone is not missing anything we do.
Students are called in to join in and try the techniques and methods.
If you are more comfortable taking notes and watching that is all fine. If you want to join in more, you are very welcome to join in and try the methods hands on.
Sign up today
VAT cannot be deducted because the class is held on Swedish soil.
Summery of what's included in the masterclass:
---
Enrobed bonbons and layered-enrobed bonbons!
Casted bonbons! (Casting and make super clean caps)
Spraying and painting techniques!
How to work with colored cocoa butter for a long time, 1-2 Hours and more if needed.
Recipe Formulation (theoretical part!)
AW what it is and how to calculate ganaches for shelf life
PH level and Alcohol, how it affects your shelf life.
Sugars school, what sugar to use, and when to use them!
Flavor extraction and maximation!
Cacao fat quality! How it affects your creations
Get your own recipes tested in a lab grade AW tester in class!
Let Kalle Jungstedt analyze your own ganache and what might improve it.
Demo/Hands on class!
Who is Chef Jungstedt?
---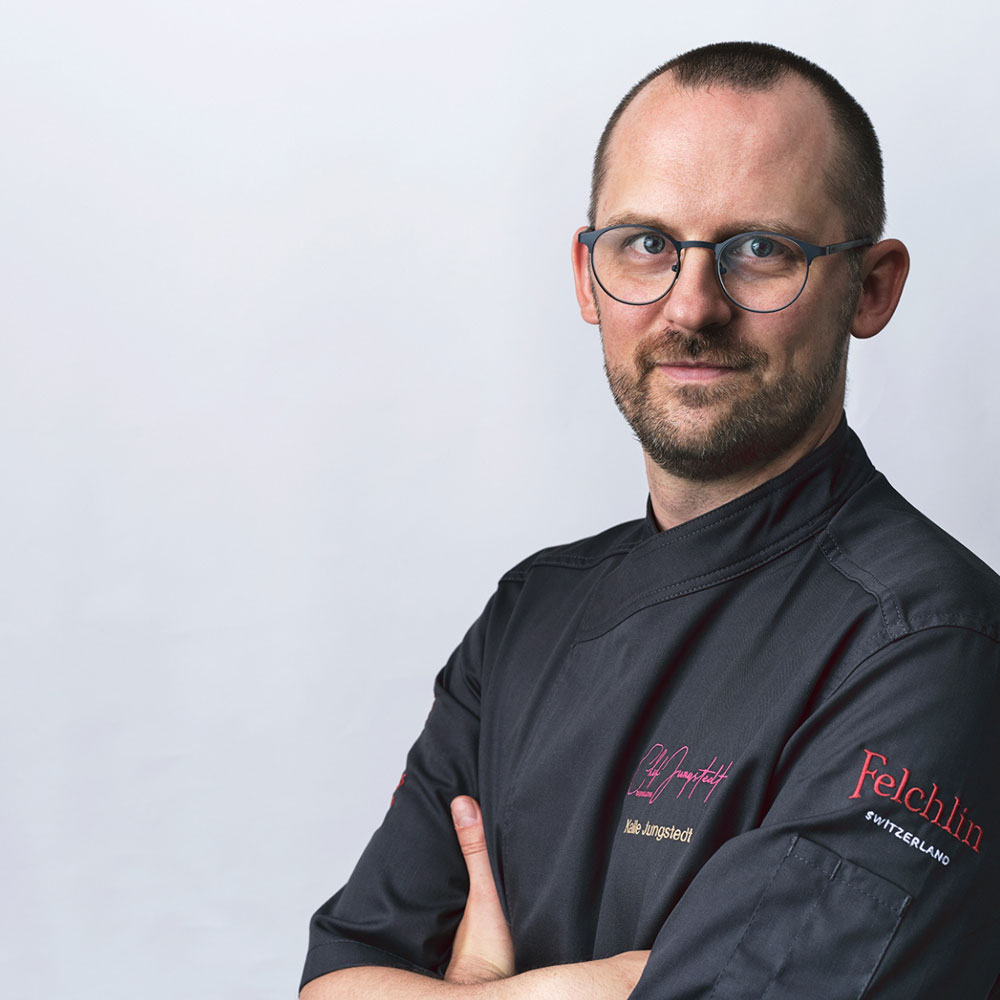 Kalle Jungstedt is running his Company in Stockholm Sweden offering online and live classes all over the world.
Kalles online courses have been sold in over 90 countries and received great praise for his high level of knowledge and his down to earth and pedagogical way of explaining things.
Sign up today
VAT cannot be deducted because the class is held on Swedish soil.
Questions before you buy Chef Jungstedts masterclass?
---
Chef Jungstedts online courses
---