Description
What is included in the class: 
---
16 Instructional videos 
Covering all topics below, total duration of 3h 45 minutes with 18 additional PDF-files. 
56 Recipes, AW and texture tested! 72 Pages
You will get 56 recipes, 18 of them is vegan. All of them is AW and textured tested.  
Ganache calculator 
When you sign up for this course, you will get Chef Jungstedts Ganache calculator. It´s an excel sheet that help you to balance your own ganaches with the  knowledge from this class.
---
Chef Jungstedt will help you expand your toolbox with more and different types of fillings than you had before. This is not a ganache class, this is a filling course! Ganaches will be included and you will learn how to balance your own ganaches, but we will not stop there. 
Video overview
Intro

What equipment do we need for this class?

What is an emulsion?

Sugars!

What is cacao butter silk? 

Water activity

Ganaches (Cold method)

Ganaches (Quick method)

Caramel ganaches 

Nut ganaches

Giandujas

Crunchy fillings

Pipeable cookie layers

Marshmallows 

Fondants

Fruit Gels
---
---
Customer question: How long can I store your bonbons? 
This question might make you uncomfortable….
By using one of the 56 well balanced recipes that you get in this class, you will be sure to have a secure foundation to build your business on or just have fun with great results when you are exploring the world of chocolates making chocolate for friends and family. 
You will also gain knowledge about how you can make your own balanced recipes from scratch in this course.
Shelflife and Water Activity
All recipes in this course are balanced to be easy to work with. They give you a secure foundation to stand on since they are carefully balanced to be easy to pipe and make,  and they all are AW TESTED. 
The water activity will dictate the shelf life of your bonbons! The lower the number the better your filling will counteract bacteria growth. If the water activity is too high in your fillings you will have a product that is unsafe to serve to your customers or friends. As little as 2% too much water in a filling can throw off the balance and make it unstable and unsafe to serve.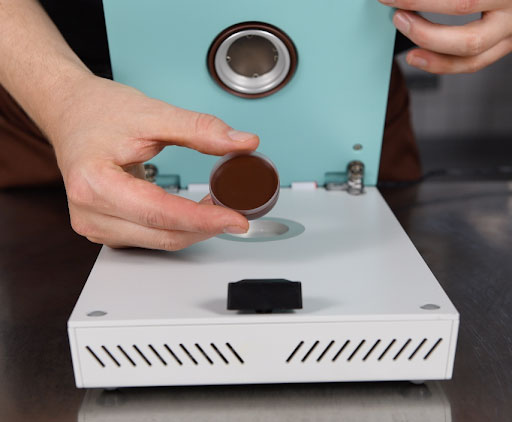 Water activity is not to be mixed with water content. 
All fillings in this class have a AW reading below 0.85 AW. This will ensure that all your fillings will be safe to serve and have a shelf life up to 3 months and some recipes way longer than that.
You have probably experienced how difficult it can be to create your own ganache recipe?
You get the taste but the filling becomes too thick and difficult to pipe. You may increase the liquid to get the consistency but then they just start to dry out or mold will start to grow just a few days later. .
If you know each individual ingredient and how much (in percent) of the various components that control the result – then you get full control over texture, taste and durability.
We will have a theoretical written lesson where we will go through how the different components of a ganache affect the end result.
The purpose of this theoretical lesson is for you to deeply understand how a ganache is structured and how you can adjust the various components – so that you get the result you want from your particular ganache, every time.

My own ganache calculator is included in the class
You need to have precise control over the percentage of sugar, water, cocoa fat, milk fat and dry mass in your ganaches, in order to control durability and texture.
Therefore, my Ganache calculator is included, so that you can more easily calculate and adjust your recipes and also get maximum control over how much ganache you want to get out of the recipe.
This gives you full control over all parameters before you even start mixing the filling. It saves time and raw materials as you get basically perfect results every time.

What equipment do we need for this course?
---